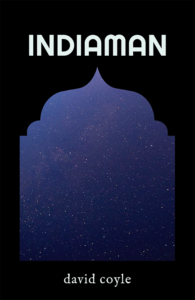 The transit of Venus, in which Venus passes between the Earth and the Sun, occurs in couplets eight years apart. These couplets don't return for another century. If you miss them, you miss them forever.
In 1760, astronomer Matthew Sangster leaves his family in Dublin to observe the transit of Venus from India. Despite vowing to return within three years, Matthew's journey is perilous. Delayed by events at sea, the deserts of Arabia, and the Seven Years' War, he missed the first transit.
To salvage his career, he decides to wait in India until Venus returns. Matthew spends the next eight years attempting to survive in a world beyond his understanding. As empires collide around him, the heavens move slowly above. All the while, he struggles with doubt, temptation, and a vengeful warlord intent on killing him.
With Venus drawing closer, Matthew's options are to succeed in his task, or return to his family with nothing.
AUTHOR BIOGRAPHY
David Coyle is a 33-year-old writer from Wellington, New Zealand. In 2009, he was nominated for Best Screenplay for a Short Film at the Qantas Film and Television Awards for Poppy. Since then, he's focused on writing literature, finishing his first novel in 2014 (Psych World). Although it went unpublished, it was a finalist in the Michael Gifkins Prize for an Unpublished Novel 2020. With Unsolicited Press, a small publisher in the United States, he published a paperback long-form narrative poem in 2019 (The Bloom) and an eBook novella in 2021 (Joker). In 2020, he published three short stories ("The Fall," "The Path," "Dis Location") in the literary magazines Willard & Maple, October Hill, and Inkling. He also finished my B.A. in English Literature in 2020 from the Victoria University of Wellington.