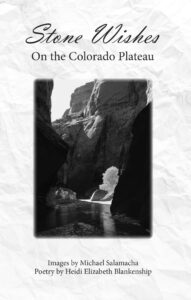 This book is a journey to the soul of the Colorado Plateau through the eyes of two people who have lived and worked there as stewards of the land. Through Michael's photographs and Heidi's poetry, the artists share their bond with the beloved landscape that has shaped their lives and careers. The effect is a heartfelt melding of nature and spirit that is deeply rooted in place. Their work is an expression of gratitude for the Plateau that extends well beyond, instilling a greater appreciation for the natural world at large.
AUTHOR/PHOTOGRAPHER BIOGRAPHIES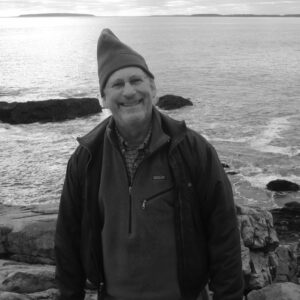 Michael Salamacha grew up in rural Connecticut and started taking pictures as a young kid, with simple cameras. He has always enjoyed walking, hiking, and nature. In the early 70's he took a trip out west and fell in love with the desert and the Colorado Plateau. He asked Park Rangers how they got their jobs, then returned to college, graduated, and worked for the National Park Service as a seasonal ranger for 16 years in 12 parks, from Colorado to Florida to Maine to Alaska and more often to Utah. He ended up as a Wilderness Ranger for the Bureau of Land Management at Paria Canyon/Vermilion Cliffs Wilderness. Now retired, he has time to wade through all the thousands of photos taken in beautiful places. Heidi caused him to use digital cameras and he never worried about running out of film again.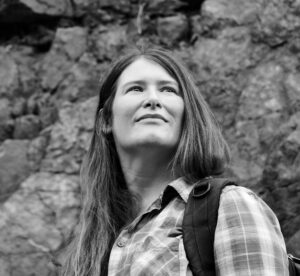 Poet, wilderness ranger, artist, editor and wanderer, Heidi Elizabeth Blankenship is a native of Utah but also claims Arizona as home. She is the author of Memorizing Shadows: Inspiration from the Arizona Trail (Shanti Arts 2017), a compilation of poetry and artwork from her Arizona Trail thru-hike. Heidi serves as the poetry editor for Deep Wild Journal: Writing From the Backcountry. She met Mike while backpacking in Paria Canyon. Later, he kindly allowed her to patrol the area.
Purchase at Barnes & Noble here.
Also available from other online retailers. Ask for it at your local brick and mortar bookstore, or better yet, ask your local library for it to read for free.
Praise for Stone Wishes:
"Stone Wishes: On the Colorado Plateau, a collection of black and white photographs by Michael Salamacha and poetry by Heidi Elizabeth Blankenship, belongs on the bookshelf or better yet in the backpack of all who know and love the red rock wilderness of the Southwest. There is a crispness and a simplicity to the poems and the pictures that mirrors the landscape."
--Rick Kempa, founder and editor of Deep Wild Journal: Writing from the Backcountry; author of Too Vast for Sleep
"Heidi Blankenship's Stone Wishes on the Colorado Plateau is a tribute to the keen observation poets do so well. Her sense of textures of Earth's fabric reminds us of the buckles and patterns in stone topography; her awareness of sound attunes us to wind through an owl's feathers, the muffled breathing of horses, the dripping of spring water music; her senses relay the scent of flood water coming down an arroyo, sweet sage on the breeze, the smell of rain lingering on your lips; her clear imagery presents us with lightning over the reef, lenticular clouds, and a spring screaming with yellow monkey flowers. These are the words of experience— and her love for the Colorado Plateau.
Paired with Mike Salamacha's striking photography of places reminding us what all of this is about, Blankenship shares stories of her encounters with wild critters and gently urges readers to be more mindful of these fragile homes on which so many depend. . . .Stone Wishes is a beautiful treatise on what is good and what remains. Carry this slim volume of inspiration with you and listen for the "siren's song… of a canyon wren."
--Margaret Pettis, artist and author of The Saddlebag Poems, Appaloosa Earth: Great Basin Haiku, and Chokecherry Rain.