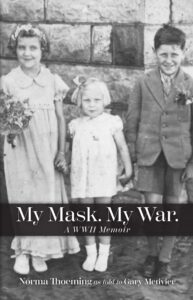 The streetlights were dark for the first years of her life, hiding her home from would-be bombers.
A shiny apple for Christmas was all her father could manage. Her mother had walked away without a word after evacuees fleeing the blitz moved in. For Norma, this was life in World War II England. It was all she knew. A life made better by a loving sister and mischievous brother who watched and explored as bombs rained down. And soon, American G.I.'s, would open her eyes to a whole new world filled with new tastes and new dreams for a brighter tomorrow. Norma takes us on an inspirational journey of love, loss, laughter, and hope.
This is Norma's story. This is Norma's War.
AUTHORS' BIOGRAPHIES
Gary Metivier is an award-winning author, multi-winning Regional Emmy®, and Edward R. Murrow journalist, film and documentary producer and host.  Gary began writing books during his 25-plus years as a news anchor/reporter to raise awareness and funds for nonprofits serving both veterans and children with cancer. He is the tenth in a family of twelve. He has two sons who are following in the healthcare footsteps of his wife, Pam. They live in Davenport, Iowa, with two golden retrievers—Max and Finn. Gary also produces inspirational videos and podcasts. See more on him, his books and links to his videos at metiviermedia.com and "The Heart of the Story with Gary Metivier" on Youtube.
After raising her own large family, Norma dedicated her life to being a community volunteer. She spends much of her time collecting food from local grocery stores to deliver to a nonprofit that serves veterans and their families.  Her husband Dick, who she describes as her "rock," helps with the heavy lifting and so much more. Norma lives in Davenport, Iowa. In front of her home proudly stands the American flag side by side with the Union Jack of Great Britain.