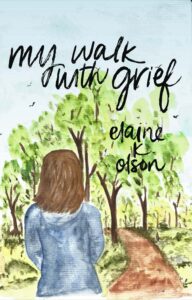 A widow's journey into a new life...
My Walk with Grief is a spiritual memoir about Elaine Olson's obsessive ten-year search for identity and love after living in the shadows as a pastor's wife for thirty years, eventually marrying an agnostic who embodies Divine grace. When her husband died, part of Elaine died, too. Unimpeded as a widow, her obsessive search for her own identity and love pulled her into soul struggles, grief, world travel, disastrous dating, dog drama, and spiritual surprises. Elaine's memoir will inspire readers to seek new identities after a significant loss or transition, encouraging them to grieve deeply, live fully, and rediscover love and the largeness of Spirit's embrace. Elaine tells her story in a way that is candid, entertaining, and easily relatable, addressing at least two topics other books on grief do not: the spiritual struggle to discover a more extensive understanding of Grace while seeking a new identity as well as sexuality and dating.
AUTHOR BIOGRAPHY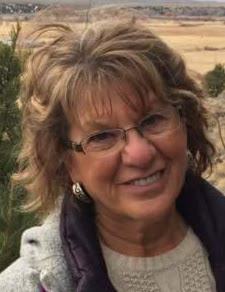 Elaine Olson is a retired ordained pastor of the Evangelical Lutheran Church in America, a certified spiritual director, and a Licensed Clinical Professional Counselor. She has been writing reflections and narratives in personal journals for most of her life. In the past five years, she has written to inspire and encourage others. She is a mom and gramma, and her life-long passion is to wonder, teach, guide, and affirm others; and together integrate issues of life and Spirit. She writes a blog called "g'amma gazing" at elainekolson.com.
Praise for My Walk with Grief:
"Exquisite attention to the myriad realities of grief and refreshing candor about subjects many widows find it difficult to talk about, Elaine Olson has written a compelling memoir about the death of a beloved spouse and the journey to be loyal to love by continuing to embrace life. As a widow myself, I found this book insightful and life-giving."
~Kathleen D (Kadi) Billman, John H Tietjen Professor of Pastoral Ministry, Emerita, Lutheran School of Theology at Chicago
"A beautiful and sensitive memoir of the trials and tribulations we all face at different times in our life. Pastor Olson's poetic writing style and honest depictions of her struggles in finding happiness and equilibrium in her life once more after suffering deep pain and uncertainties, is a celebration of the human spirit. Read this book. You will long remember it and be inspired and reassured that difficult and unbearable sad events in life can and will be overcome with faith, hope and perseverance."
~Catherine Androus, Tour Director & Certified Master Guide
"Elaine's memoir is sad, brave--and so encouraging. As a widow, I was comforted to discover that the journey may be long and winding, but it leads to new life."
~Carl Tracy, Retired Director Thomas Tredway Library, Augustana College
"Amidst the most beautiful blessings of our human existence is our capacity to love and be loved. In the wake of profound loss, one comes to fully understand love and grief are inextricably entwined, both extraordinarily powerful forces in influencing and shaping our lives. My Walk with Grief is a poignant journey of love, profound loss, the beauty of vulnerability, resilience, hope, and the possibilities of healing and transformation."
~Kathleen Bowman, LCPC, Licensed Clinical Professional Counselor, Genesis Hospice Grief Support
"As a former hospital chaplain, I enthusiastically recommend Elaine Olson's book. It is an honest memoir of a widow's journey through grief and healing. Read it and you will be blessed."
~Jeanne Olsen, Retired Chaplain at Genesis Health System
"In the memoir My Walk with Grief, Elaine has shared the story of her deep grief with a vulnerability that caused me to feel as though she was revealing her soul-identity to a most trusted friend. She shares experiences that are raw and real as she relates how the desperation of a life defined by loss eventually leads to a more complete understanding of self. It was a privilege to be invited to such an intimate look at her life."
~Pastor Mary Kay Hensen, Spiritual Director
"It is a rare gift to be able to weave together the various threads of one's life. Rarer still to do so and share it with others as Elaine has done so eloquently in My Walk with Grief. This beautiful journey of heartbreak, joy, and rediscovery reminds us that love is the gossamer strand that binds us all."
~Anne A Supplee, MDiv, MS-Palliative Care
Also available at other online retailers in paperback and e-book formats. Ask your local brick-and-mortar bookstore for a copy, or better yet, read for free by asking for it at your local library.