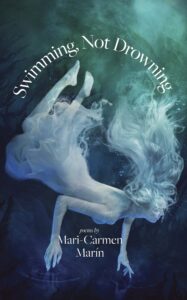 Swimming, Not Drowning, winner of Lone Star College's Writing Excellence Award, is a memoir in verse that takes the reader on the poet's journey through her struggles with an anxiety disorder that often led to depression. The first part, "Deep Water," explores the author's childhood, family, personality, fears, disappointments, the generalized public unfamiliarity with mental illness, and other factors conducive to the onset of depression. The second part, "Drowning," depicts what it feels like to be trapped in the disabling claws of the depression monster. The last part, "Swimming," is a testament of hope, reassuring the reader that with patience, understanding, and support, everybody can learn how to "swim" the deep waters without drowning.
AUTHOR BIOGRAPHY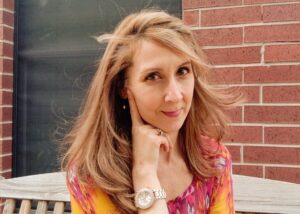 Mari-Carmen Marín was born in Málaga, on the southern Mediterranean coast of Spain, but moved to Houston, Texas, in 2003 after receiving her Ph.D. in African American literature from the University of Zaragoza (Spain). An avid reader and lover of literature from an early age, she began to write poetry to give a specific shape to, and be able to order, the chaotic and complex feelings and ideas running rampant in her mind. Writing poetry has become her comfy chair in front of a fireplace on a stormy winter day.
She prepared for a new career in poetry through online courses from Stanford Continuing Studies and attendance at many poetry workshops under the supervision of poets like Dave Parsons, Tony Hoagland, Courtney Kampa, Kirstin Andersen, Mong-Lan, and Beth Lyons. Her poems have appeared in several places, including, Wordriver Literary Review, Scarlet Leaf Review, Dash Literary Journal, Months to Years, The Awakenings Review, Lucky Jefferson, San Fedele Press, Willowdown Books, The Comstock Review, The Green Light Literary Journal, Mothers Always Write, Breath & Shadow, The Ekphrastic Review, Poets' Choice, Kaleidoscope, Toho Journal, and Poetica Review. She currently works as a professor of English at Lone Star College at Tomball, Texas.
When she was younger, she dreamed about going to the United States someday, where she could begin a new life, teaching, writing, and making a difference in others' lives. It took her thirty years to figure out how to achieve her dream, but she has been living it for sixteen years now and counting.
Purchase online here at Barnes and Noble.
Also available at other online retailers in paperback and e-book formats. Ask your local brick-and-mortar bookstore for a copy, or better yet, read for free by asking for it at your local library.
Praise for Swimming, Not Drowning:
2022 AWA Poetry Winner, and Finalist under the Category of Autobiography/Memoir