This is a story about a mother and son, a story about addiction.
I Can't Do This Anymore documents a year in the life of Karen Hardy and Bryan Massey. It was written in real-time over the course of a year while Bryan was in active addiction, in and out of rehabs, jail, and living on the street. Karen started writing in July 2016 not knowing how the year would end and committed to documenting whatever happened. The ups and downs will leave you reeling and not knowing what comes next.
AUTHOR'S BIOGRAPHY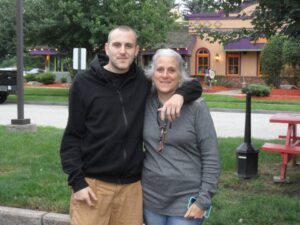 Karen Hardy is a mental health and addiction counselor with a private practice in Belgrade, Maine. Born in New Haven, Connecticut, she worked as a correctional counselor in the Connecticut state prison system for 20 years. She earned an addictions certification while working in prison, and then earned a master's degree in counseling psychology upon retirement. She has a strong interest in helping the families and loved ones of with people with addiction. She and her husband have four children and a dog. In 2019 Karen and Stephen did some section hiking on the Appalachian Trail for overdose awareness. Karen continues to use her experiences in her life to bring awareness, support, and healing to others who struggle.