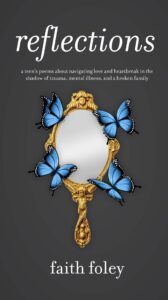 Teen author, Faith Foley's, book, reflections, contains a teen's poems about navigating love and heartbreak in the shadow of trauma, mental illness, and a broken family. Ten percent of the profits from the sale of this book will be donated to the Family Resource Center.
welcome to the story of my life
the happiness,
the tears,
the sadness,
and the fears,
staring back at me,
to slowly reveal.
when i look into the mirror,
it's a monster.
a goblin full of my past mistakes,
the past spoken words and screams,
the times when my head was foggy not clean.
i see the monster and i think that's who i am,
as i am realistically just a girl,
a girl in a small town,
who walks around with a constant frown.
my reflection is always staring back at me.
AUTHOR BIOGRAPHY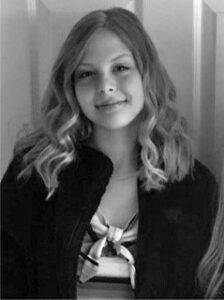 Faith Foley started writing poetry with a writing assignment in eighth grade. She began this collection in the spring of 2019 and finished it in the spring of 2020. In addition to poetry, Faith enjoys expressing her creativity through painting and drawing. She also enjoys raising chickens and playing Sims.
After high school, Faith plans to study to become an interior designer. She lives with her dad; dog, Hope; and sister, Isabel, in Iowa. Her other sisters, Maddie and Justine, also live in Iowa.
Also available at other online retailers in paperback and e-book formats. Ask your local brick and mortar bookstore for a copy, or better yet, read for free by asking for it at your local library.
Praise for reflections:
reflections in the news: