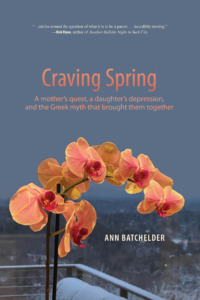 Craving Spring: A mother's quest, a daughter's depression, and the Greek myth that brought them together is a memoir about Ann's desperate attempt to rescue her daughter from depression and addiction. While she gathers insight from therapy, the 12 Steps, and Buddhist teachings, she finds the solace she needs from an unlikely source: a Greek myth about Demeter and Persephone.
Connecting the ancient myth to her experience as a traumatized mother, Ann at first feels vindicated in her desire to save her child, but later learns the need for compromise, the challenge of letting go, and the secret to returning to herself. A book about honesty, compassion, and trust, Craving Spring dives into the complex relationship between mothers and daughters to celebrate the universal desire for renewal.
"A masterful storyteller, Ann Batchelder takes us deep into the heart of a mother's love while demonstrating the power of myth to illuminate a path toward healing. Craving Spring is a gift to anyone trying to navigate the complexities of the mother-daughter relationship."
—Anita Johnston, Ph.D., psychologist and author of Eating in the Light of the Moon
"Craving Spring is so deeply heartfelt that I felt it in my own heart, often pounding as I read—and yet I could not put it down."
—Lynn Melnick, author of I've Had to Think Up a Way to Survive: On Trauma, Persistence, and Dolly Parton
"Ann Batchelder has expressed something extraordinary with relevance and profound teachings…Craving Spring is a story of triumph. I highly recommend it."
—Tommy Rosen, founder of Recovery 2.0
AUTHOR'S BIOGRAPHY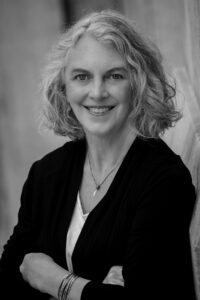 Ann Batchelder, author of Craving Spring: A Mother's Quest, a Daughter's Depression, and the Greek Myth that Brought Them Together, writes about women's wisdom and the pain and beauty of difficult transitions. She served as editor of FIBERARTS Magazine, guest curator for the Asheville Art Museum where she designed and developed three major contemporary art exhibitions, and was Director of Special Events for the Brooklyn Academy of Music. Ann earned an MSW in psychotherapy and has been practicing mindfulness since 2004. The mother of two adult children, she lives with her husband in Asheville, NC. Find her at www.annbatchelder.com.
Photo: Laurie Johnson