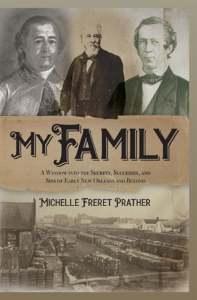 My Family: A Window into the Secrets, Successes, and Sins of Early New Orleans and Beyond is a collection of biographies about famous and not-so-famous people who lived in 18th and 19th-century Louisiana. When we discover what has been left out of our family stories and our shared human story, we gain a new window into our present. By telling the stories of my ancestors, I hope to inspire others to explore their families and the past they think they know.

My 7 X great-grandparents, Jacques Cantrelle and Marie Marguerite Larmusiau, arrived in Louisiana in 1720. As a ninth-generation New Orleanian, I wanted to know how my ancestors navigated the complicated story of one of our nation's most enigmatic states. I wondered how time, place, and circumstances affected their lives and choices. I didn't know where to start, so I began with my most famous ancestor, the French Impressionist painter and sculptor Edgar Degas. I read Christopher Benfey's book Degas in New Orleans: Encounters in the Creole World of Kate Chopin and George Washington Cable to find names and stories of other ancestors. I wanted to shake my family tree to discover the nuanced history of Louisiana beyond the events and heroes of its tangled past. Uncovering the stories of my family gave me a framework to better understand how those same factors shape my own life and choices. Our human story is not one-dimensional and finite but is an intricate, expanding mosaic.

I became enthralled with one person from Benfey's book: Norbert Rillieux. He was a free person of color and a world-renowned chemical engineer and expert in thermodynamics whose invention revolutionized the 19th-century sugar industry. Benfey referred to him as a "closely guarded secret," so of course, I had to know more. Rillieux was not part of the family lore that had been passed down. I subscribed to some online family history sites and confirmed that he was, in fact, one of my ancestors, my first cousin, five times removed. Norbert Rillieux appeared on many lists of African American scientists, but websites and recent books repeated the same scant information.

I started reading books and documents from the 19th century and discovered the rest of Norbert Rillieux's story. I knew I had to tell the world about this fascinating man and native son of Louisiana. I collected as much information as possible, but it wasn't enough for a whole book. By chance, an old friend contacted me about my ancestors while he was researching a 19th-century engineering plan concerning the Mississippi River. I told him about my project, and he invited me to go with him to Tulane University's Special Collections library and meet author and Professor Emeritus of History Lawrence Powell. Dr. Powell was gracious and willing to guide and connect me with experts in Louisiana history. He agreed that I didn't have enough for a whole book, encouraged me to shake my family tree a little more, and suggested some names to investigate. Dr. Powell assured me that my family history was deeply intertwined with the history of New Orleans.

I became an expert in using online translators to read French and Spanish documents that were hundreds of years old. I visited London and met with some distant cousins that I found through an online family history site. They filled in some gaps about some of my ancestors. I traveled to Paris and visited Norbert Rillieux's tomb and other sites related to his life. After two years of research, I gathered enough information to write a book about my family. In the Rillieux, Cantrelle, Verret, Jones, Bringier, and Freret families, I discovered free men and women of color, war heroes, inventors, a Cuban filibuster, a universal suffrage activist, spies, founders, philanthropists, entrepreneurs, planters, cotton factors, and slave traders. I was struck by the contradictions in their lives because I was so used to history being told about winners and losers. I hope that by telling the paradoxical stories of my ancestors and examining how the past shaped them and how they shaped the past, others will be inspired to delve into their family histories and discover history at the granular, human level and understand the ripples we send forth.