Passions for writing and dancing...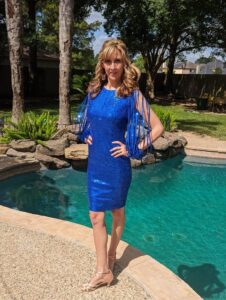 In this short interview, Mari-Carmen talks about how dancing and poetry have affected her lifestyle over the years, and how they're intertwined with one another.
"I have always loved dancing and admired dancers. I remember watching all Fred Astaire's movies as a little girl living in Spain and being mesmerized by the smoothness and elegance of his movements. Then, I became a fan of Michael Jackson. When I was eighteen, I learned the choreography to "Thriller," taught it to my cousins so that we could record my own version of Jackson's video in las Ramblas of Retamar, in Almeria, my hometown. When I grew older, I took some ballroom classes here and there, but I kept on moving and always had to stop. It was in 2018 that I discovered Dance with Me Dance Studio in Woodlands, TX, and I have been taking dancing classes (salsa, cha cha, rumba, mambo, bachata, merengue, swing, hustle, waltz, tango, foxtrot, etc.) since then. There are many things that I love about dancing. Like writing poetry, dancing is challenging, therapeutic, and it allows me to express myself in an artistic way and connect with others. I have learned so much about my body: the separate movement of my arms, my legs, my hips, my feet, my hands . . . . As in poetry, where every detail matters, like the choice of words, the line breaks, the form, the rhythm . . . , in dancing, every part of your body has an important role in the delivery of the dance, and when done well, the result is harmony, a work of art. Moreover, since all the focus is on the music and the way your body responds to it when I am dancing, I live in the now. There is no room for intrusive thoughts or worries, with which I constantly live. My body takes over my mind, and I can relax.
Something similar happens when I write poetry, since the discipline needed to enclose my complex thoughts and emotions within the boundaries of a poem, together with the effort in turning difficult content into something aesthetically pleasurable, is therapeutic. Finally, dancing, like writing poetry, is a way of connecting. We live In a very divided world where those who are different from us are perceived as enemies, and yet while dancing, all is about connection with and feeding from your partner's energy. There is no resistance to change. I go where my partner takes me and I feel safe. Poetry has the magic power to also connect people no matter who or where they are. As Toni Morrison described it so well, writing is a dance of one open mind that engages with another one. There is nothing more satisfying than connecting with someone I don't know through their words or knowing that my words in a poem have had an effect on another soul who might feel less alone and scared because we have connected through our common humanity. I have participated in several competitions, where I have never felt I was in a competitive arena against others. If anything, I competed to better myself. In these competitions, I have been inspired by the transformative power of dancing. No matter their age, size, gender, race, ideologies, all dancers come together to speak a universal language through their bodies. I always see my fellow dancers as family, and I am so lucky to have been a member of this growing family for four years and counting."